Customers are always amazed at how much we charge for an event people tend to think we are very expensive but we are the complete opposite. We like to keep the costs as low as possible we buy in bulk making savings and pass on those savings to our customers. We are very professional and can turn our hands to anything that is required and mid-week we were catering for a very large corporate event and as usual we had everything under control. We are very organised and thorough and we arrived early morning to get a good start.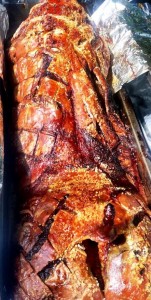 Unpacking the boxes and setting up the machines was the first job of the day and a large pig was the meat to be cooked and a big pig it was! It took two of our chefs to lift it onto the machine and as it roasted happily away we began to prepare the rest of the Hog Roast Buriton. We brought with us some huge dishes and placed them full of salad we chopped and sliced and made a rainbow of salads and lots of tangy dips and dressings. On the other machine we placed rows of potatoes and as the potatoes cooked we began to make the fillings cheese and onion, tuna and sweet corn and a nice curry filling plenty to go around to feed all the guests.
We also placed lots of freshly baked sausage rolls, mini pasties and quiche again all baked by us at the crack of dawn. All our staff are very organised and work together as a team and always know what needs done first with years of practice and catering lots of times for large events we know what we are doing.
As the doors opened and the guests came flooding in and all came over for a close look at the big succulent pig they were just in time to watch our chef carve the meat and place it onto huge servers and no sooner was it carved and it was ate, the guests were very happy with the Hog Roast Buriton as was the Company Director who came over to thank us personally for all our work but we all agreed it was a pleasure.