Are you planning a private party and you're looking for ways to impress your guests with amazing food served by dedicated, highly-trained professionals? Or maybe you're thinking of hosting a business event, your wedding meal, a christening, retirement, engagement or anything else you can think of where delicious food is prepared, cooked and then served to the diners? When it comes to this and so much more, Hog Roast Brokenhurst is a clear winner and the preferred choice of many, and we have spent years building our reputation on these foundations. Our repeat customers are testament to this and we often see familiar faces asking us for our gorgeous pigs in buns again, or a plate of local meat, fresh vegetables and potatoes, and our homemade gravy that we have served them in the past.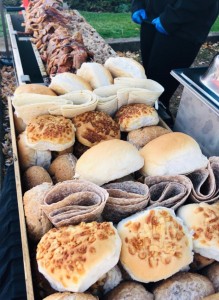 However, we can also cook so much more than this and often do – from a barbecue of gourmet sausages and burgers that are 100% beef to our fabulous Southern Slow Roast Menu which features three marinated meats and four sides and even a vegetarian option, so that varying tastes are catered. When it comes to cooking a mean hog roast, we are number one in this area and further afield, and when it comes to choice and variety, we are light years ahead of some of the competition, but that is because we know what people want, and have done for a long time now.
Hog Roast Brokenhurst recently had a booking from a long-time customer, Becca, who has used our catering services for a dozen events and parties, and she knows all about our array of options to suit special diets as well as personal tastes. For her 50th birthday party, to be held in her back garden, we were asked to cook our signature pigs in buns but to also provide a vegan option for her daughter. Arguably our most popular vegan dish, our veggie skewers include halloumi when we cook them for vegetarians, but just fresh, tasty, grilled vegetables when we make them for vegans.
On the day of the party, Hog Roast Brokenhurst served up some scrumptious food to 35 hungry guests and as we cleared away, Becca booked us in for another special occasion – her wedding anniversary meal. As you can see, our repeat customers certainly love us for every occasion you can think of.