When it comes to your catering needs, Hog Roast Barton on Sea is proud to offer so much more than you might expect. We not only provide gorgeous, homemade food for all kinds of events and parties, but we also hire out and even sell our own range of handmade machines, which we designed with ease of use in mind. Whether you're a budding chef who wants to roast a hog for the first time or you're a seasoned professional who cooks for customers just like we do, we can help you to choose the right machine for you, whether it's a rental or if you're thinking of buying either a new or used machine.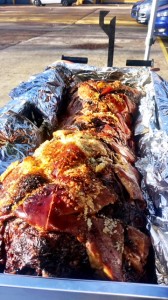 We recently hired out one of our range to Ben, who had found us online and was looking for someone to show him the ropes. We always show our customers exactly how to use our equipment, which actually doesn't take long as they are so simple to use. To cook a hog roast, for example, you set the temperature, turn the machine on and then watch over it to ensure it cooks through and through – it really is that easy!
On the day of Ben's rental, where he would be roasting his own hog for a family party, our Hog Roast Barton on Sea chef took the machine along to this home, which would be the venue for the special occasion. We can deliver to your choice of venue, and we collect the machine from you too, so there is no need for you to waste time and you can focus instead on cooking tasty food. We can even source the meat for you if you need, as we have various trusted suppliers like farmers and butchers who supply the meat that we use when catering, but on this day, Ben had his own hog ready and waiting for us to arrive.
After showing Ben the ins and outs of our Titan machine, Hog Roast Barton on Sea left him to it, but with instructions to refer to just in case. When we collected the machine from him the next day, he excitedly told us all about the successful hog roast he had cooked to perfection. We have a feeling Ben might be hiring from us again in the near future!