In addition to the fantastic hog roasts for which Hog Roast Alton are known for, it may please you to know that our chefs are not limited to just pork roasts. Hog Roast Alton are proud to boast a whole range of different menus each of which can be suited to our clients individual needs and requirements. Whether you are looking for an informal meal for a handful of guests or are looking for something  grander and on a larger scale- Hog Roast Alton are the caterers for you!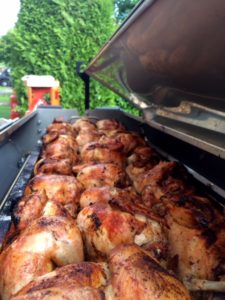 One of our increasingly popular menus is our 'Southern Slow Roast' menu. This menu is a brilliant choice if you are new to Hog Roast Alton as it provides the opportunity to experience the best of what we do- slow roasted meats that simply melt in the mouth. With this menu you get the choice of three different meats all roasted to perfection along with some delicious southern American style accompaniments.
This week we had been booked by Martin to prepare our southern slow roast menu at the Sarisbury Green Community Centre for a corporate event for Tuv Sud Limited. Our Hog Roast Alton catering manager for this event was Raffa who was tasked with creating this menu for one hundred and fifty people and an eight o'clock serve time.
Martin had made an excellent flavour combination in his menu choices (if we do say so ourselves!). he had chosen our BBQ Pork Butt, Texan Beef Brisket and mouth-watering Cajun Whole Roast Chickens. For the vegetarians Martin selected our signature Grilled Vegetable and Halloumi Skewers, Served with Pitta Breads and a Tzatziki Dip which are always a welcome addition even for the meat eaters. In terms of the accompaniments there was plenty to choose from: Memphis Style Coleslaw, Greek Salad, Mac and Cheese and Cajun Sweet Potatoes Wedges!
With the guests spoilt for choice this was set to be another successful Hog Roast Alton…