Recently, the Hog Roast Alton team were hired by Gill for an event. The served their buffet outside under a grand marquee as the rain held out the afternoon and the guests enjoyed some mildly sunny weather. The food was served in Gill's garden and a fantastic atmosphere was created for the outdoor service. The buffet food was laid out beautifully along the buffet table and was served professionally to the guests by the team.
The Hog Roast Alton team cooked the Southern Slow Roast menu for Gill's guests.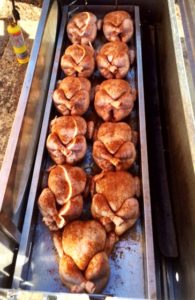 The menu featured three different meats inspired by the spices of the southern states of the USA. The selection included BBQ pork butt, Texan 24 hour beef brisket and Cajun spiced whole roast chickens. These were cooked on site using the team professional roasting equipment including their Hog Master machine. To accompany the tasty meats, the team also served Memphis style crunchy coleslaw, corn on the cob, macaroni and cheese and a classic green leaf salad. The Hog Roast Alton team also served a meat alternative of lightly grilled vegetable and halloumi skewers which were served with pitta breads and a tzatziki dip for Gill's vegetarian guests.
The Hog Roast Alton team were originally to serve their buffet to 60 people, however, Gill had 10 extra last minute guests who attended the event. However, the team easily adapted their buffet to included the extra guests and there was more than enough food to go around. The team was led by their Catering Manager, Raffa, who has a fantastic reputation for delivering smooth services and fantastic food. All of the guests really enjoyed the food and many returned to the buffet table for second helpings of the southern spiced meat. The food was served from 3pm to 6pm so it was important that the team continually topped up the buffet table and also kept the food warm in professional heated metal trays. After the service, the team cleared all of the waste away from the garden so that the grass looked spotless. Gill was really pleased with the service they delivered and that she had hired them.