Christmas dinner is one of the most delicious meals of the year, but it is also one that takes the most preparation, planning, and cooking. As enjoyable as it is to sit down to an incredible meal, this doesn't make the time in the kitchen any less stressful! What if there was another way to enjoy Christmas, with the help of Hog Roast Exbury's delicious Christmas menu? Instead of spending the day cooking, why not spend the day the way you want to and enjoy a tasty meal cooked by our team?
The Tomlin family like to get together as often as they can, but this is not always easy since they are spread across the country due to work and university. Because of this, Christmas is an excellent opportunity to make up for lost time and enjoy delicious food together. Since it is such a special occasion, the family hired Hog Roast Exbury to provide our incredibly Christmas menu, since it allows you to enjoy a festive meal without the need to spend the day in the kitchen!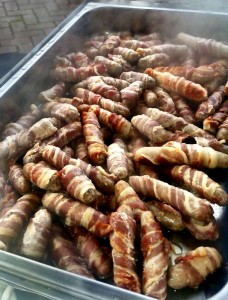 On the day of the event, we arrived at the venue with plenty of time to spare before the 17:00 mealtime. We began by roasting the turkeys over whole flames, to ensure that they are succulent and juicy. We accompanied the meat with fresh cranberry sauce, as well as sage and onion stuffing. We also prepared a selection of Christmas trimmings, include homemade gravy, pigs in blankets, seasonal vegetables, roast potatoes, and cauliflower cheese. this created a tasty meal that was perfect for a Christmas celebration!
To finish the meal, we served traditional mince pies, served with warm brandy cream. The dessert was served with a round of non-alcoholic mulled wine, allowing the guests to toast to another great year together.
To find out more about our Christmas menus, simply get in touch with Hog Roast Exbury today. We have a menu for any occasion, so simply let us know your party size, date, and location and we can begin to plan your perfect catering package.