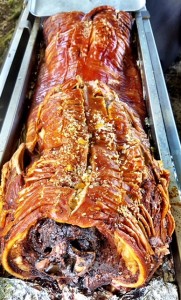 Spitting Pig represents the best of catering, a triumph of good food and service, a catering company that understands your event visions and will do everything in our power to see they're met. It's a great success for hog roast and spit roasting to have not just made it this long, but done so while thriving and constantly reinventing itself in different ways. Going from a simple fire on the ground cooking a manually turned wooden skewer, to being as technologically advanced as it is to day, being better by new machine technologies we've invested in. We use stainless steel finished machines for cooking chickens, lambs, turkeys, pigs, sirloin of roast beef and chicken kebabs. There's always something new to try with Spitting Pig with our ever growing collection of specialised spit roast menus, making sure our services never grow old.
Hog roasting has a certain vibrancy to it that is impossible to replicate, there is a sense of community and occasion that is brought to the table by a hog roast. The association between hog roasting and big community occasions is engrained in the British psych, you only have to ask a few people what they think of when they hear the word hog roasting and you'll find the positive descriptions flowing in thick and fast. From fairy tales to history documentaries, hog roasting enjoys a great image that's conductive to elated guests once they catch eye of our hog roast chef.
Your hog roast Andover can be booked for an indoor or outdoor venue. We're catering outside almost as much as we do inside on some weeks, especially in the summer months. The spit roast and tray roasting process is so simple, and our machines so mobile, that catering inside or out is a complete walk in the park for us – and so whether it's a park or the pub, there is no environment we don't thrive in.
Our hog roasts really are the tastiest and we have the praise from everyday clients to food critics to show for it. Succulent roasted pigs, served on floured rolls with classic crackling, apple sauce and stuffing, it's the best way to eat at an event and it only gets better from there with menus being bolstered by other great foods, from canapés and starters to the desserts we cook. With so much in the way of menu choice the only problem you'll have with Spitting Pig is all the wasted hours spent deciding which of our appetite whetting hog roast Andover menus you like the sound of most! We bring the best hog roast service without mistake, our chefs and the team on the whole is incredibly well versed in cooking and providing genuinely tasty, elite catering.
Hog Roast Andover Leaders In Our Field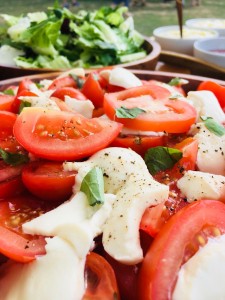 The background for most the Spitting Pig team is professional and personal, we have a mixture of chefs, from those who've been through the education system and worked at professional restaurants and other catering outfits, to hog roast chefs that have learnt to make the best hog roasts from sheer enthusiasm and practice at spit roast fairs, at home, etc. You don't need any real formal training to be a natural hog roast chef capable of making luscious roasts. Those that know us you'll probably be aware that we have another lick-your-lips hog roast service and that's the machine hire. For those that don't know your machine hire service is a fantastic chance to hire, short of long term, one of our many different spit roast and hog roast machine models. The machines are our own, built by us and part of the Spitting Pig brand, they're the very definition of excellence and the sheer number of people in the culinary industry who are using our range is testament to that fact.
We think you're going to love our hog roast hire Andover service, especially with the flexible periods of hire and the fact that unlike most flimsy hire services we actually have several models of spit roast and tray roast machines – and they're from our own model range! The quality of our machines is a guarantee and being the reputable, much respected hog roaster that we are our machines are also CE approved. When you call to hire you can pick one of the hog roast hire Andover machines which will go hand-in-hand with your event size and occasion. The Spitting Pig hire plans are available for a single event, a week-based hire or a monthly hire.
Why not call us today, there's no harm in requesting a free quote and we promise not to take too much of your time.