Hog Roast Fareham really do have the perfect food for any and all occasions. What's more is that we are able to be completely flexible due to our unique catering style and so can cater for any dietary requirements you or your guests may have.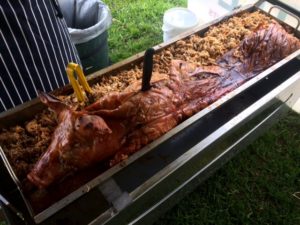 Just last week Hog Roast Fareham were busy catering for an event at Portsmouth Rugby Club. We had been given an eight 'o'clock serve time and told to expect approximately one hundred guests for our hog roast. Jayne had booked us to cater and had requested Hog Roast Fareham catering manager Raffa to prepare our classic menu 1 along with some vegetarian alternatives.
Included in our menu one is our classic slow roasted meat of your choice, in Jaynes case this was pork and so we brought along a large hog that we would be roasting whole in our trusty hog roast machine. When the meat has been cooking for several hours in our machine you are left with only the most succulent of meats which actually struggle to hold their shape during carving. The meat literally falls off the bone and melts in the mouth; just how a hog roast should be! For this Hog Roast Fareham menu, we serve up the meat in slices into freshly baked soft floured rolls and top with a generous serving of our chefs homemade applesauce, hearty sage and onion stuffing and layer upon layer of moreish crispy crackling.
Of course, not forgetting the vegetarian option our chef had really pushed the boat out and prepared something spectacular for this event. We never want those with dietary requirements to miss out on the exquisite taste of our Hog Roast Fareham and so we always put every effort into our alternative menus too. Tonight, we would be serving up Grilled Vegetable and Haloumi Skewers, Served with Pitta Breads and a Tzatziki Dip. It's safe to say both the hog and vegetarian options went down a treat and we can't wait to cater again at Portsmouth Rugby Club!