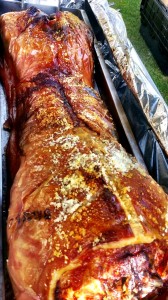 It's quite rare these days for me to get a job situated in a rural, picturesque part of the country but it happened last week for me as I was asked to travel to Bishop's Waltham, this lovely little Georgian town is placed at the head of the river Hamble in Hampshire.
Over the past five years as a hog roast chef, I usually have to do corporate events for big business' that want to treat their staff to a nice evening or day out followed by a delicious hog roast sandwich. This is a great earner and to see how and where other people work but it does make me miss the rural jobs I used to get where it would be lovely surroundings and a really relaxed atmosphere.
The Bishop's Waltham hog roast was exactly that, the event was local gathering to celebrate bonfire night, this time of year, it gets pretty dark very quickly so I had to prepare everything well in advance, this includes making sure that the crackling is served up separately to everything else and that the food is kept at a great temperature because a cold hog roast is the best…said no one, ever!
Hog Roast Bishop's Waltham Leaders In Our Field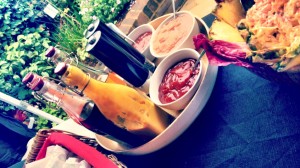 With the Bishop's Waltham hog roast expected to be a bitterly cold night, I decided to change my game ever so slightly and provide a mass of baked potatoes, these are fantastic additions to the menu as they retain heat a lot better than rolls therefore keeping the guests hands nice and toasty with a tasty filling of freshly roasted pork, cheese or apple sauce. Trust me, once you've been stood in the winter night air for five minutes, a baked potato with this type of filling can change your life somewhat.
I began the roast at around 2pm in order to have it ready for the Bishop's Waltham locals to enjoy whilst the fireworks and bonfire were kicking off, I know it must be hard to organise a fireworks display but trying to organise a hog roast and to have it ready by the time the party really begins is a hard job in itself!
My method of hog roasting is very traditional, I like to use a home-made apple sauce as well as sage and onion stuffing this combination is not only a timeless classic but also a fantastic blend of many flavours. I don't tend to offer the sweet glazes on my hogs as I find them to be a bit too sickly sometimes but I did use a blend of cider and sugar to inject the hog for added succulence.
As the darkness approached in the early evening I was minutes away from serving up some delicious food, the smell intertwined with the aroma of sparklers and gunpowder made me feel warm inside despite the darkness and bitter cold air.
As the fireworks went off and the bonfire roared way in the field, I watched as the rosy faced diners ploughed through their sandwiches and became satisfied with my hard work. I did however have one guest who told me that the first and last hog roast he ever had contained a bone and it had put him off ever since, I told him that he could watch me carve his if he liked and he agreed.
After watching this chap, devour his pulled pork sandwich I was pleased that I had transformed someone's opinion from hate to love of the roasted hog. The Bishop's Waltham hog roast turned out to be a huge success and many people enquired about having me cater for parties and a few corporate events, so not only did I get to work at a fantastic fireworks display but I also got to convince a chap that not all hog roasters are the same, I wouldn't dream of serving any bone in a hog roast sandwich, it disappoints me to hear of other caterers doing this type of thing but there you go, I'll guarantee absolutely every sandwich I serve has not gristle, bone or any other nasty surprises in it. Just great quality, succulent meat this time and every time I serve. That is one thing you and the chap I converted at the Bishop's Waltham hog roast can be sure of.