Recently, the Hog Roast Fleet team were hired by a local client for their event which they were hosting at the Crookham Street Social Club in the village in Fleet. The food was served as a buffet by the team and featured a classic selection of the team's most traditional foods which had a gluten free twist to suit the client.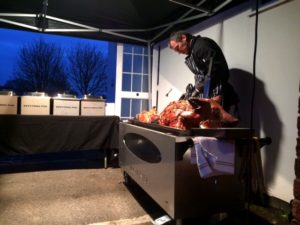 The client selected Menu Three from the selection offered by the Hog Roast Fleet team. This menu featured a whole slow roasted hog which was cooked in a Hog Master machine which ensured that the meat was evenly cooked and ensured it tasted fantastic. The hog meat was served with selection of bread rolls and wraps, crispy crackling, fresh apple sauce and homemade stuffing. However, the usual classic bread rolls were swapped out for gluten free rolls and the classic stuffing dish was also made gluten free. The sides were served in hot trays to ensure that the food remained warm. In addition, for the vegetarian guests, an alternative of lightly grilled vegetable and halloumi skewers which were really enjoyed by the guests and looked beautiful and really colourful on the buffet table.
The buffet was served by the Hog Roast Fleet team to 100 people and so it was very important that all of the food was delivered to the buffet table at the same time. The food was to be served from 8pm so it was crucial that all the food was ready on time due to the late nature of the service. The service itself was led by the Hog Roast Fleet team's Catering Manager, Raffa, who did a great job of managing his team. The client was really pleased with the service the team delivered and was very impressed by Raffa's great leadership. The food tasted fantastic because all of the food had been prepared and cooked on site to ensure that everything tasted fantastically fresh. The team arrived well before the serve time to ensure that they had time to cook all of their food to perfection for the guests to ensure and did not have to rush the plating.