Recently, the Hog Roast Farnborough team were hired by a local client for their post wedding party. The party was held at a private home and began in the early afternoon. The couple had invited a large number of guests would were all hoping to receive a plate full of fantastic hog roast food. The team also traditionally served their food as a buffet which helped to maintain the casual, upbeat atmosphere of the party. The buffet was served outside in the fantastic grounds of the house which was a perfect backdrop to the party. The team were pleased that they could help to make the couple's wedding unforgettable.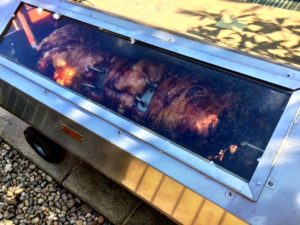 The Hog Roast Farnborough team arrived a short while before the serve time so that they could prepare and cook all of the food on site so that all the meat tasted fantastically fresh and tender. The menu was a classic hog roast which showcased a whole slow roasted pig as the centerpiece for the buffet table which was cooked in their Titan Machine. The freshly cooked meat was served alongside homemade apple sauce and crispy crackling alongside a selection of delicious sauces. In addition, a range of sides including new potatoes  The food was served on crockery, and with cutlery, which was provided by the client at their request.
The Hog Roast Farnborough team's Catering Manager, Raffa, has a fantastic reputation and this event was perfectly suited to his team. In addition, the team also supplied two extra team members to assist clients with the clearing the venue after the wedding. This included clearing away all of the waste produced by the team during the service. The food was served between 2pm and 4pm so it was essential that Raffa ensured that all of the food stayed warm throughout the service so the buffet was served in professional heated dishes. Raffa carved the meat, using professional tools, throughout the service and topped up the buffet, ensuring that the meat did not dry out. Raffa was really proud of the food his team delivered and their guests all appeared to thoroughly enjoy the food.