Here at Hog Roast Fordingbridge, we work together with our customers to ensure the food is exactly what is wanted, and cooked and served in the manner needed. When it comes to catering, we go the extra mile to make sure everyone is fed well at your party or event, regardless of dietary restrictions or preferences, and we listen to our customers' needs, as we know that not everyone is the same and that every occasion is different. For many years now, we've had the pleasure of catering all kinds of parties, from birthday celebrations to wedding receptions and christenings to corporate functions and no two have ever been the same but that's what keeps it interesting.
We recently catered a 40th birthday party and the theme was something new and different for us, as it was like a mini-festival,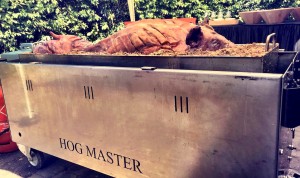 with garden activities and then live music in the evening. When our customer booked the party, they wanted the guests to be able to help themselves to the food over a few hours, and eat when they were ready rather than everyone queueing up and eating at the same time. Our customers' wishes are our commands so Hog Roast Fordingbridge would prepare and cook a succulent pig on the day of the event and then the hundred guests could enjoy pigs in buns as they pleased.
When we cook a centrepiece hog roast to make pigs in buns, that's after we've sourced the meat from a trusted local supplier and then prepared it from scratch at your venue so that it's as fresh as possible. After scoring the meat all over, adding water to keep it moist and then massaging in plenty of salt to make the crackling, we set a low temperature on our hog roast machine and watch over the beast as it cooks away for hours, slowly but surely. The result is incredibly tender and juicy morsels of meat and a crunchy, salty outer, both of which we cram into soft bread rolls or wraps and top with our very own apple sauce and stuffing.
Hog Roast Fordingbridge had a great time catering this birthday party and loved to see everyone helping themselves and satisfying their hunger with pieces of meaty heaven.