Hog Roast Waterlooville is often asked to cater large events with hundreds of people or more but if you're planning a smaller party, we can still easily provide the same delicious food and the same first-rate service for you and your guests. There is no minimum number of guests required to use our services and we can cater in just about any location you can think of, as our trusty range of lightweight hog roasting machines run on gas bottles and are easily manoeuvred. We will always cater your party or event in style, regardless of the formality of the special occasion you are celebrating or commemorating and no matter what kind of food you would like us to serve.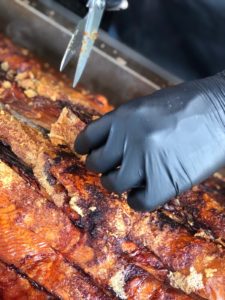 Talking of the food that Hog Roast Waterlooville can serve to you and your guests, it's not only truly scrumptious hog roasts that we provide, despite them being a part of our name and our long-perfected signature dish that is loved by so many. We also offer plenty of choice and variety to ensure that everyone you invite gets to enjoy our food, including multiple courses, canapés and hot and cold sides, as well as alternative meat dishes to please all carnivores and options to suit special diets too, such as vegetarian, vegan, plant-based or gluten-free. Whatever you need, we will do you proud and impress your guests no end with our amazing array of dishes to suit everyone.
We did just that for Eddie recently, when we catered his informal corporate hospitality function at his business premises on Monday afternoon. Eddie had asked us to make our famous pigs in buns for most of his fifty guests, which we would do by roasting a medium-sized hog for hours on end, until we got a crispy browned outer and tender and moist meat inside. However, Eddie also needed a vegetarian option and wanted us to provide additional sides, so he also decided on our halloumi and veg skewers, a side salad and our homemade coleslaw.
On Monday, Hog Roast Waterlooville cooked the hog roast and skewers to absolute perfection and together with the garden-fresh sides, Eddie and his guests were treated to a real feast for all the senses.