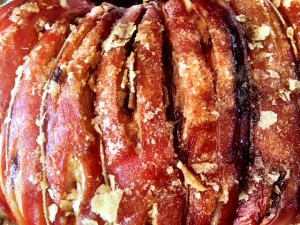 Hog Roast Ringwood were delighted to be asked to cater for around 30 people at a private party at Struan Gardens in Ashley Heath.  Catering for this type of event is something that Hog Roast Ringwood excels at alongside catering for weddings and corporate events and a selection of menus is available that will ensure that guests will always go away fulfilled and satisfied that the food that they have eaten has been high quality, delicious and with a professional service whether we are catering for over 300 guests or for only 30.
For all events, Hog Roast Ringwood always liaises closely with the client to ensure that all expectations are met (and regularly surpassed!) and that the most appropriate menu is selected.  For this type of event, we have a selection of six menus and we discussed with the client, which would be most suitable.  The menu selection ranges from informal, Hog in a Roll food to more formal sit-down catering and the client indicated that they would like a wider selection than just a hog roast and with proper plates and cutlery.  For most occasions, clients opt for a straight choice of the menu but in some cases, especially when guests have specific food allergies or requirements, Hog Roast Ringwood will gladly customise the menu to the client's expectations.  In this case, the meat that the client wanted us to serve included pork butt, beef brisket and roast chicken and they also requested greens, salads, potato wedges, coleslaw (without onions) and gluten free rolls.
There are many good caterers for this type of event but one of the things that makes Hog Roast Ringwood stand out from the rest and be recognised as a great caterer is not only the professional service and the very high-quality food, but also the flexibility and adaptability that we have to be able to tailor our menus for the clients' requirements and the attention to detail that we always deliver.