The Hog Roast Winchester team added to our ever-growing list of corporate clients a couple of days ago when we were asked to provide one of our top notch buffets for the annual gathering of a local office management company. Many companies now opt to host their events in-house to keep costs down, but they often struggle to find mobile caterers who can give them the quality of food that they require, not to mention to flexibility to prepare it at their premises. Thanks to our ability to do exactly that, we are becoming  a very popular choice for these kinds of company events, not to mention a wide range of other types of corporate entertaining!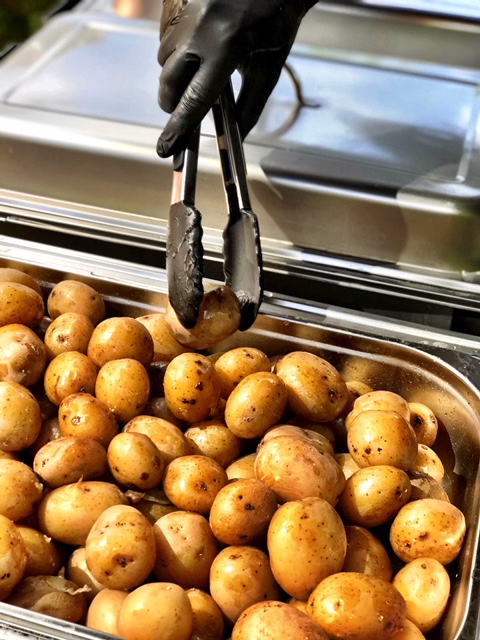 HR Co-ordinator Phillipa had been given the task of booking the catering this year and she was very glad when she visited our website and discovered our wide array of tempting menus! Like a lot of people, she initially thought that perhaps a hog roast company wasn't the best option because a) the event would be taking place indoors and b) she had to consider the diverse dietary needs of the 60 employees who would be attending the event. After speaking to us here at Hog Roast Winchester though, she knew we were more than up to the task and hired us to provide some of our classic slow roasted pork, accompanied by one of our characteristically varied buffets, including cous cous, new potatoes, vegan-friendly coleslaw, grilled veggie skewers and gluten-free bread rolls and wraps!
With our versatile cooking equipment and equally versatile team on-site, we spent the morning at the company's HQ preparing every part of their buffet menu from scratch  whilst our ethically-reared was also being freshly roasted on-site, using only the best locally sourced produce!
We were ready and waiting to greet the 60 employees at 1pm sharp with a friendly welcome and an inviting spread! The lunch was everything Phillipa had hoped and more, with all of the employees enthusiastically tucking in, and regardless of their tastes or dietary requirements, it was evident that everyone loved Hog Roast Winchester's diverse corporate buffet and unbeatable slow roasted pork!