In the past it was very rare that someone you knew would reach their one hundredth birthday. In recent years, however, it is becoming fortunately much more common and here at Hog Roast Lewes we have noticed we are frequently asked to cater for such a milestone event!
On Tuesday we were on our way to help celebrate Barbara's one hundredth birthday party as organised by her grandchildren. For such a special occasion we were preparing our 'Southern Slow Roast' menu as we had heard of Barbara's love of a hog roast however she had never hosted her own. Well in our opinion here at Hog Roast Lewes one hundred years is far too long to be deprived of our delicious slow roasted food and so we were determined to rectify this and provided Barbara with a hog to remember!
As part of the 'Southern Slow Roast' menu our guests get to choose a variety of different meats and accompaniments. For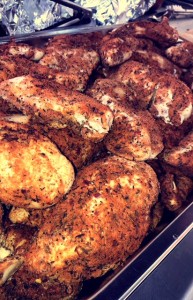 Barbara's birthday her grandchildren had chosen BBQ Pork Butt, a Texan 24 Hour Beef Brisket and a couple of Cajun Spiced Whole Roast Chickens. All of our slow roast meats are marinated in Hog Roast Lewe's secret recipe rubs and cooked to perfection so the meat just melts in your mouth. For the accompaniments we prepared a delicious Greek salad, corn cobettes and of course not forgetting our homemade crunchy coleslaw.  This may sound a lot of food for just the thirty guests at the party but in our experience,  everyone always ends up wanting seconds and some even thirds!
When the time came to eat, Barbara, still fit as a fiddle even at one hundred, couldn't believe her luck! She was overwhelmed at all of the effort her grandchildren had gone to for her special day and couldn't thank us enough for preparing, in her own words, 'the worlds best hog roast dinner'. Well we won't argue with that!