Here at Hog Roast Southsea, we're always looking for ways to serve up mouth-watering meal plans with a side order of sustainability.
For example, in an effort to do right by the planet and our customers, we have swapped out single-use plastics for environmentally-friendly bamboo crockery and matching cutlery. Plus, all of the ingredients we use to make our legendary menus are sourced from local farms right here in Hampshire.
So when Catrina asked us to provide our Classic Hog Roast Menu at an event she had organised in honour of World Environment Day earlier this month, we were ecstatic!
We've been catering to events in our local area for many years now, and each event is a chance to celebrate the beauty of the world around us. So, World Environment Day is especially important to us, and Hog Roast Southsea was proud to be involved in the celebrations.
As I said, our menus are designed to make the most of local, organic, and sustainable ingredients. So, on the day of the event, Hog Roast Southsea slow-cooked a large pig over an open flame – in this instance, we had been asked to remove the head beforehand so as not to upset any guests – creating a delicious, succulent roast that was packed with flavour.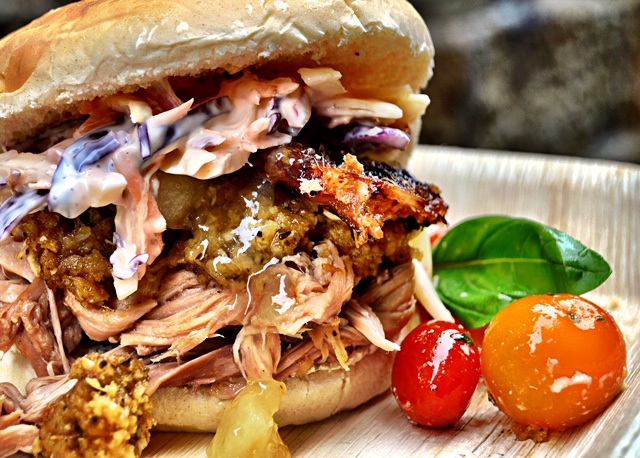 We served the tender and juicy meat on gluten-free rolls with sage and onion stuffing, crisp and salty crackling and applesauce with a side order of freshly-prepared salads, mixed fries, condiments, and sauces. For those following strictly meat-free diets, our caterers prepared veggie sliders and grilled vegetable kebabs with halloumi and tzatziki dip.
We're pleased to share that this varied feast was popular with everyone who attended, and in between munching on our flavour-packed grub, the guests enjoyed listening to talks from environmental experts, learning about new eco-technologies and buying sustainable goods from vendors, who had been invited to pitch their stalls at the event.
It was a pleasure for us to provide food for this event, and we can't thank Catrina enough for including us in the festivities. We believe that sustainability is integral to the hospitality industry, and we're proud to be able to contribute to the celebration of the environment.