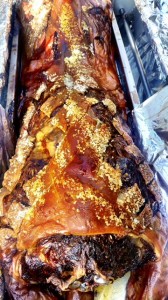 There are now two ways to cash in on the benefits of a Spitting Pig hog roast Romsey at your event, the first is traditional hog roast catering served in many fashions – buffets, seated-meals, direct serving from the chefs table – and the second is an innovative hog roast machine hire. The machine hire is really picking up steam and we'll tell you why. The fantastically exciting and tasty hog roast Romsey catering we've built our name on has attracted thousands of clients, with hundreds of events for new hog roast customers each year. The magnetism of a Spitting Pig hog roast comes down to the sheer quality of the food we make. We make roasts better than anybody, in fact even our non spit roasts give the best caterers and restaurants in the country a run for their money. Just as much care and skill is invested in our canapes, starters, or any other food, as the hog roast. What you get with our menus is a selection of equally delectable dishes, all cooked by expert chefs who have specific talents and roles to play in our catering services.
The immense ease and bragging rights of having a hog roast for your event is an attractive proposition. We can spit roast and cook so much more food now, the in-built grill on one of our machine models means that we can even grill food today, like our 100% British beef burgers or gourmet sausages made by a Spitting Pig chef. The fun with the hog roast grill doesn't stop there, we can grill so many other foods, we can even use stainless steel pans to cook with our machines. You can imagine just how helpful our own machines have been, they're invaluable to us in giving you the #1 catering service in Romsey.
The Best Hog Roasts In Romsey
Our presence at your event before serving is worth the admission alone, your guests will have something to marvel over and look forward to once they spot our chefs and their hog roasting activities. If you want to talk about creating an appetite, our hog roasts will whet your appetite on first sight. The centre piece of our catering packages is the spit roasted pig. Delectable, whole pigs roasted for hours at a time, the spit roasting technique embeds in the pig a strong, notable flavour while keeping the meat juicy throughout, except for in the case of the crackling which is unbelievably crispy! The contrast between the melt in your mouth, juicy meat and the crunchy crackling is one to behold, it's a great combo and it only gets better when added to with fresh floured rolls, stuffing and gravy. The pig is just delicious, there's plenty of other words for it but they all mean roughly the same thing and that's something that tastes remarkably good. The pigs we cook aren't unique in that respect, though, you'll find the same quality throughout our menus, whether for the other spit roast choices or for any of the other dishes we can cook for you.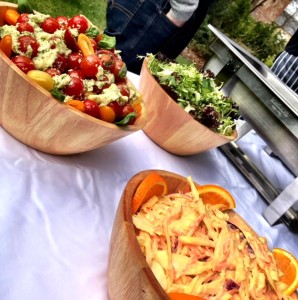 The machines we create aren't just kept to ourselves and the other professional culinary outfits that we sell to. As we're committed to spreading the hog roast word we thought to ourselves, 'Why not rent machines to individuals as well as businesses?' after pondering on that question for a while we decided  there were only benefits to such a concept and so we swiftly outlined a plan and rolled out our hog roast Romsey hire service to the larger public – and for years now new and old clients alike have been taking advantage of the hog roast hire offer, using machines for parties, BBQs and businesses purposes.
Now you can hire a machine at any time of the year for a variety of hire periods. The machines come from our own production line and we're always growing our hog roast machine arsenal to answer growing demand for hire. We don't need to know why you want the machine, what type of event you're throwing, all we'll need to know is what you intend to cook and how many you intend to feed, with that information we can give you guidance on which of our spit roast machine models will be best suited for your hog roast Romsey hire. Quotes for hog roast machine hire are free, as with the quotes for hog roast catering. Feel free to call us to pick our brains and receive more hog roast catering information.