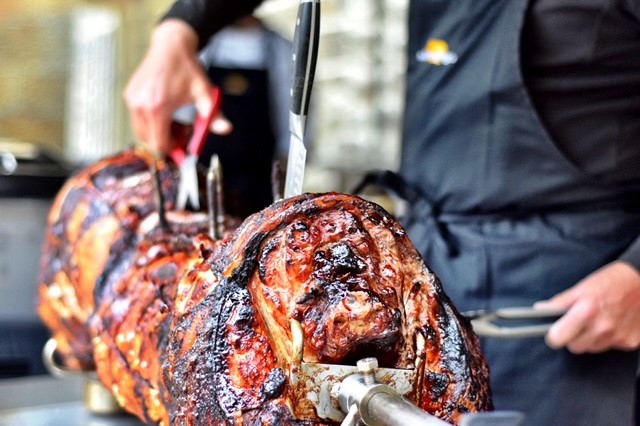 How do you get a good quality provider in Petersfield? There seems to be so many companies offering a variety of services and pricing Hog Roast Petersfield is an exciting and dedicated caterer that serves Petersfield and the surrounding area with first class hog roast catering. we have helped thousands of customers like you and we have become well known and loved for our delicious hog roasts, which are our speciality. But we also have a reputation for being an excellent all-round caterer, and we have worked to ensure that we can provide any and all events with a consummate service. This means that we offer many diverse menus, full of innovative and modern cuisine devised by our talented chefs, with a whole range of exquisite side dishes, main courses and well-thought out vegetarian alternatives. Hog roasts are in vogue at the moment, and we think we offer the best possible example of them.
If you would like to alter or adapt our existing menus to suit your event even more specifically, then we welcome that – our talented and fully qualified Hog Roast Petersfield chefs and our organised office team will work together to incorporate your wishes into the menu because this is something that we are used to and do this everyday. We have a very wide selection of existing canapés, side dishes and spectacular vegetarian alternatives.
As a hog roast caterer, our hog (and other meat) roasts are at the centre of what we do. Here at Hog Roast Petersfield, we have perfected the art of it, and as its such a versatile dish, we can integrate it with all of our menus. Although in many ways the taste of a hog roast speaks for itself, we went to extra lengths to ensure our roasts were the best they could possibly be – we custom designed our own spit-roast machines to ensure the best possible roast, and the most hygienic cooking environment possible. Spit roasted meats are a flexible dish, and so allow us to pass that flexibility onto you. For instance, we cater for all sizes of parties, and all types of events. We pride ourselves on not turning anyone away; unlike most caterers, we are happy to cater for even the smallest of private parties. Similarly, we also offer a competitively priced rental service of our spit roast machines (we call them Hogmasters), so that you can be in complete control of your event – you can even use your own pigs, but we of course will provide one otherwise. And do not fear, we can also deliver the Hogmaster and set it up for you, so that the pig is ready  to start cooking! We call this the D.I.Y roasting. And you could also be an expert in no time.
The Best Hog Roasts In Peterfield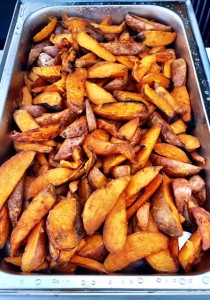 On top of that, this way of cooking simply gives you party so many more options of how they chose to dine: our more ornate menus allow you to offer a traditional sit down meal, but our simpler menus allow a more informal event to flourish. It's all up to the type of event you want: want to see your guests up and about, snacking on one of our famed hog roast rolls or sitting down and enjoying a beautifully presented roast at the centre of a delicious meal? That's why we think spit-roasts are so valuable for catering: they allow you to tailor your event to your own tastes – we never have to put constraints on our customers, and that's what makes the hog roast hire Petersfield special.
Many customers love party food but want something different and big enough to satisfy their big appetites. We follow our customer's letters to a T so that they enjoy it so much so we receive repeat custom from them.
What is it like to cater a hog roast hire Petersfield style? The answer is great! as there are a number of venues from to choose from. One of the best things about Hog Roast Petersfield is that everything is within walking distance and surrounded by a great community. Hog roasting also means that you get to travel to other areas and build up a good customer base. So come on try out our hog roast we will be waiting by the fire with a drink for you.
The best way to find out what we can do for you is to contact us soon, as we are always taking on new bookings, but we occasionally have to disappoint those who come to us at too short notice, so we urge you to get in touch now if you want to talk to one of our dedicated office staff can work with you one-to-one to come up with the perfect dining experience for your event. Don't settle for anything less than your dreams!