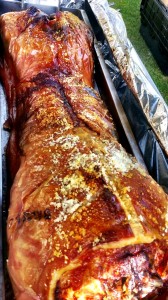 The atmospheric brilliance and scintillating taste of hog roasting is one that's best visited with Spitting Pig, reason being that in a hog roasting context, or even an out and out catering context, we're the best that there is. We emphasise all that's good about spit roasting and hog roasting with our highly professional hog roast Midhurst catering packages, giving you a real taste of hog roasting with a highly regarded all-round service to go with it.
Our succulently roasted meets will knock you off your feet, made by specialist chefs with an ingrained appreciation for the finer points of hog roasting you'll be blown away by what we offer you and your guests. Spitting Pig began it's venture into professional event catering over a decade ago and in that time we've picked up plenty of tricks and talents. Today our expertise extends to event management and even a machine hire service, it's safe to say that on our way to the top we turned over our fair share of stones, never missing a chance to incorporate new foods and new ideas to our name.
What we like to do for our clients is thoroughly provide you with a whole host of different options, the more the merrier is our motto on menus. And because we have some of the best chefs going it's for that reason that we're always expanding our menu packages, creating new ones, updating current ones, all so that we have up to date hog roast catering options that are a fit for everybody's palate and personal event needs.
The joy extracted from a perfectly created hog roast doesn't have any competition, there's not quite anything that will rival the intense, succulent flavours of a spit roasted pig with the crunchiest crackling and the enthralling spectacle of the pig roasting beforehand. That's something you can only get with a hog roast and fortunately for you the Spitting Pig team does it better than anyone. When we make a hog roast the flavourful taste is always the same, with no exceptions you'll be in for a thoroughly delicious hog roast, if you've had hog roast catering before you'll realise straight away that ours goes up a few extra gears as we mix the cream of the crop produce, chefs and hog roast machinery to go one better than the hog roasters who came before us.
A big point of difference with hog roast catering is that compared to most caterers it's unusually flexible, a hog roast is never out of place, your event could be formal or informal, big or small and regardless of occasion a hog roast or spit roast catering package just goes well in all settings.
Hog Roast Midhurst Leaders In Our Field
We're so passionate about hog roasting that we're not content with just cooking them, we take another step further and make all our own spit roast and hog roast machines. Making hog roast machines we an exciting new venture for us in our early days but it wasn't long before we garned the same irreproachable reputation for hog roast machines as we do hog roast catering. In fact, with the advent of creating our own hog roast machines it's made our hog roast catering even better, with our excellent  hog roast hire Midhurst machines we can do more with hog roast catering than was possible before we made them. If you need any proof of how good our machines are just take a look at all the other hog roasters who buy and hire our machines for their own hog roasting.
We'll help you get on your way with the  hog roast Midhurst by showing you the machines basic functions when we deliver the machine to you, there's also an easy to understand instruction manual if you need any help. With the machines being CE assured you won't have to worry about breaking it, they're made from stainless steel and unless you took a sledge hammer to it there's no breaking it. For machine hire you can book a machine with tray roast or spit roasting functions, both types of roasting can be used to cook any different cuts of meat and whole meats you buy, the attachments for the spit are adjustable and are easily changed for skewering different sized meats, giving you the best, even cooking experience for succulent results.
You can call the office at any time between the hours of 9 and 5 (and sometimes a bit later if you're lucky) to speak to us about catering and  hog roast hire Midhurst for your event.