For the capital of the New Forest comes an event catering experience quite like no other with the fine hog roasting specialists of Hog Roast Lyndhurst. For your events in Lyndhurst we have an event dining package that truly has all you could want from a catered experience: spectacle, style, genuine novelty, tradition, and exceptional quality.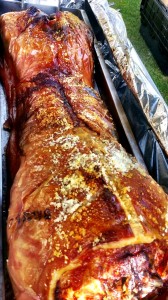 The hog roast of our name is our fan and company favourite; we've been serving this crisp, meaty special for over 20 years and decided early on that it was so good we should be centring everything else we do around it. You won't find a finer, more novel roast of its type anywhere else on the market as Hog Roast Lyndhurst pulls out all the stops to make this classic dish fashionable once again. With fiery brilliance, smoky aromas, and genuine hog roasting methods this is one brilliant British fancy to make any event sing. It's the perfect addition to any occasion – weddings, corporate functions, birthdays, festivals, anniversaries, or even just a private dinner party, Hog Roast Lyndhurst has it handled!
For the fine village of Lyndhurst our services add a touch of the personal to work into the close-knit community spirit of the area. You won't find faceless, unhappy service here that doesn't value you. The fine family here at Hog Roast Lyndhurst instead look to form better relationships with our customers, meaning that the whole process feels far more inclusive and comfortable, making for a better event experience overall! We love nothing more to see familiar faces return to us again and again, and every time we know just that little bit more to be able to give our valued customers more of what they want!
High Quality Catering For Lyndhurst
By hiring Hog Roast Lyndhurst, you are treating yourself to a smashing combination of exquisite foods and a brilliant team fit with excellent recommendations to match. With plenty of meat, vegetarian, vegan, and gluten-free options you and your guests are most assuredly spoiled for choice as our team will help you find a buffet combo or set-menu serving to suit your needs and wants. What's more, we always work flexible to your own budget without limiting you on quality.
Make it a Hog Roast Lyndhurst affair this year – call today for a free quote and start your event catering journey!