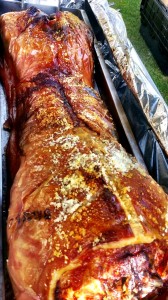 As a hog roast chef, it is sometimes the case that a job comes up that you can't afford to miss, I have done this job for many years now and when it comes to strange requests, this one literally does take the biscuit. I am based in the southern region of the UK so any jobs in the surrounding areas are offered to me and I cater for them. I was asked two weeks previous to cater for a gathering in Lyndhurst which is a quiet town in Hampshire with a population of around 3,000. This type of job is usually the most casual affair. When I asked what the requirements were I was told that it was a celebration of the life of Alice. When I asked who Alice was, it turned out that Alice Liddell/Hargreaves was the subject of the book Alice in wonderland and was a young girl who had some sort of strange friendship with Lewis Carroll but many sceptics believe that it wasn't a platonic relationship, I didn't delve any deeper I just took the info and awaited the big day.
The Lyndhurst hog roast was an odd day as the weather couldn't make up its mind what it was doing, I arrived at Bolton's beach where the hog roast and party were due to be staged, the grass was dry so we were lucky in that respect. The one thing I noticed was the crew of people setting up a large table with a massive tea set on it, a large polystyrene tree and plenty of oddball items dotted around the field. It finally dawned on me what the items were for, there was some sort of re-enactment of the original Alice in Wonderland story, and the Mad Hatter arrived with a smaller mouse in tow, the Cheshire cat and all other characters.
I couldn't quite work out why I was there but I set the hog roast machine going and started to lay out all of the sides I had created. Once the party began to get into full swing, I asked one of the normally-dressed guests what this was in aid of and it turned out that Alice herself is actually buried here in Lyndhurst and every once in a while a Lewis Carroll fan club meet up here and celebrate his most famous work by dressing up and just generally having a ball!
Leaders in our Field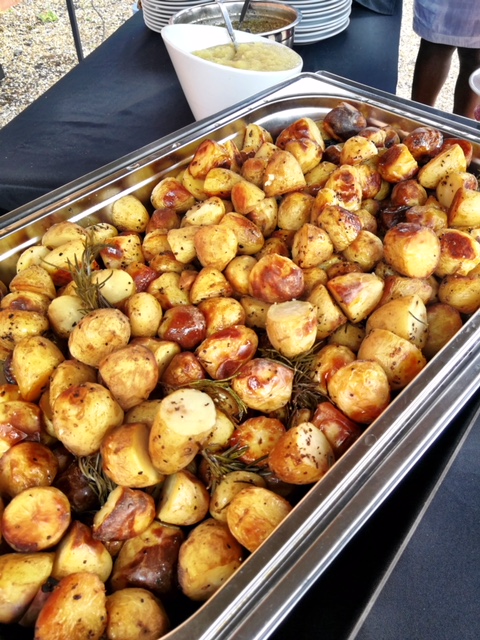 I had prepared a barbecue feast for them to all enjoy, I had beans, coleslaw, French fries as well as pulled pork, the glaze on the hog looked absolutely stupendous when it was ready, I presented it on the table for all the guests to enjoy and they went crazy for it, I had only opted to use a suckling pig which is quite a bit smaller than a normal sized hog, this often gives a much sweeter taste as well as a smoother texture to the meat. Good things always come in small packages after all! I noticed at the Lyndhurst hog roast that everyone was enjoying absolutely all of the sides and that my home-made, American style barbecue sauce was going down an absolute storm! I make my own sauces as I don't like the stuff they put in supermarkets as I have peace of mind knowing that I use molasses, sugar and a little bourbon to give it a real kick.
The Lyndhurst hog roast was one of the most bizarre experiences of my career but a highly rewarding one due to the satisfaction of all the Lewis Carroll fan club members, it's really nice to see a community of people who are as interested in an author decades after his death as people were when he was alive, there's something there that we could all use when appreciating the arts. It got me thinking too, I wondered if I had ever actually read the book itself, we have all seen the film but how many of you have actually read the book? I for one certainly haven't so I'll be picking up a copy of it as soon as I can get online and I'll try not to imagine the Disney film as I read it cover to cover.