I was recently asked by a client to work in Brokenhurst, this is a place that I have always wanted to visit and now I had the opportunity to finally go. I work as a hog roast chef in the southern parts of the UK and I really enjoy my work, not as much as I enjoy films but hey, you can't have everything can you?
My work takes a lot of time a preparation in order for it to be a success, I began my career 15 years ago when I attended a birthday party where the host had laid out a fantastic spread for all the guests but the main attraction was the visually appealing sucking pig that had been presented with great care and effort on the main table. I couldn't believe the overall taste, sight, texture and overall flavour that rippled through the entire pig, this was the most tasty meal I had ever had and I worked hard to find out how it was done, what preparation was needed and how I could make this my career.
The Brokenhurst hog roast was a great chance for me to have an insight into what the place was like and to get a walk round the new forest which is situated close to where I was to be working. The job was mainly a get-together of friends that fancied a bit more than their average packed lunches.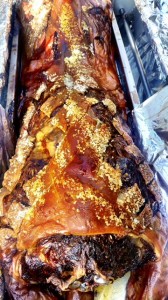 I arrived on site early to begin setting up all of my equipment that I take to these types of jobs, I was greeted by the host who asked me to move as there was a skiffle group due to arrive and set up where I was for the power generator. I wondered what a skiffle group actually was and was told that it's like an old fashioned band that sound a bit like Lonnie Donegan, for those of you that may remember him! My hog roast was a traditional hog roast as per the host's request which is where you can get a very English tasting meal, no sweeteners required, this is all about the meat and how good it can taste with adequate preparation as well as traditional extras like sage and onion stuffing to compliment the greatest tasting meat on the entire planet.
As the evening went on, I busied myself with the roasting and the laying out of the sides; I opted for good quality and freshly baked white rolls for the guests. I decided to do a few salads also to add a little extra something for the hungriest guests! The band were playing, people were dancing and generally having a great time with a few drinks inside them to lubricate the whole evening.
After I had served up the majority of the meat and the guests had dined, I began to think about what films I should download that evening, I couldn't quite remember the films I had in mind earlier that day but that's always the case isn't it?! As the band stopped playing to have themselves a break, I thought how I actually quite liked skiffle music and that I must acquire some of that for myself on long drives and when reading, just then, I was confronted by a tall gentleman who asked if there was any hog roast left, he was quite tall and had a voice that sounded familiar to me.
'Sure' I replied looking up, it was only Mark Kermode! I was quite struck by being in the presence of a TV and radio legend such as him, I got chatting to him instantly and as it turned out, he was the double bass player in the skiffle band! Who knew?!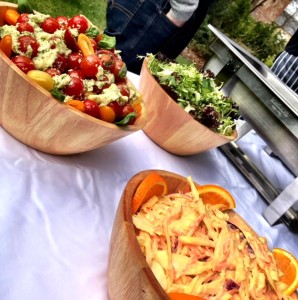 I asked him if he had any CD's for sale and he did, he bought one over to me and handed it over, I asked if he'd sign it for me, which he did. I couldn't believe how much of a nice guy he was. As it happens, he lives in Brokenhurst so he didn't have too far to travel home. Just as I was clearing up my equipment and getting ready to set off, he came back over and said that his Brokenhurst hog roast experience was the best he's ever had! What a review! I then asked if he knew of any good films to download, he wrote down an little-known independent film that I had never heard of and told me it was the best he'd seen in years, I've just finished watching it and I'll tell you this, he wasn't wrong!