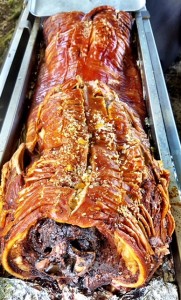 A hog roast Bognor Regis or spit roast is indoor friendly as well as being outdoor friendly, and using machines that are impressively mobile we can move around the hog roast very easily from one place to another. The hog roast machines are powered by a gas bottle so there's nothing stopping us from taking our hog roast Bognor Regis from inside to outside or outside to inside without hampering the cooking process in our machines because they have been built to be durable and are extremely reliable as they have always cooked our spit roasted meats to a very high standard indeed. This is a fabulous security-blanket for the customers we serve, it means that if it starts raining or snowing we can simply move the hog roast machine into a tent, or into a proper indoor venue – and it works the other way too, if we're booked for a venue and it's raining and we have to take the hog roast in doors, if it happens to clear up we can quickly and easily relocate the hog roast outside, and the roast will taste as good as any despite the moving about.
There is no element of luck in the hog roast Bognor Regis food we make being of the same wonderful standard of our hog roasts or spit roasts. The vegetarian options quiches veggie burgers and more, as a main meal dish or canapés, are every bit as good as the hog roast because Spitting Pig is called home for an excess of multi-talented chefs meaning we can make anything you like, chefs who know not just hog roasting, but all aspects of catering cooking inside and out we are able to create the dishes of your dreams nothing is too much of a hassle for our chefs so do not hesitate to ask us if there is something in particular that you would like us to serve on your special day. It's on that note that our perfectly proficient chefs make non-meat friendly foods of Michelin restaurant repute.
Hog Roast Bognor Regis Leaders In Our Field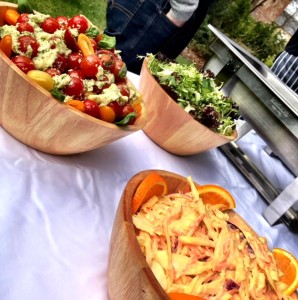 To top it all off, we're adept at catering for any type of event, as hinted at with our different hog roast Bognor Regis menu sections, such as our party menus, our wedding menus and our corporate event menus. If there is one thing we aren't it's one-trick ponies. So not only are hog roast Bognor Regis great in the catering department with our lavish spit roasted meats ranging from all sorts of animals , we're also good in the money department extremely cost effective and can free up some spare change so that you can improve your event in other ways you didn't think feasible.
Bognor Regis is a small sea side town that is based on the south coast of England, so as you can imagine  it is a great place to be a hog roast caterer as the summer events seem to be more extravagant than any other area as more people seem happy to travel to this town for celebrations such as weddings and birthdays because it is such a beautiful place to be in and with garden partys and family get togethers in the sun, BBQs are more popular than ever which is why this option is fast coming more popular than the hog roast itself yes it is hard to believe that people are loving our home made sausages and burgers, meaty spare ribs and chicken kebabs as much as our moth watering pork cooked in its own juices to perfection over the 6 hour cooking time that it takes to cook.
The professionalism our hog roast Bognor Regis team have has bred an approach-ability that can't be over-sold, our customers are never off our phone lines because they know we're willing to give 100% of our concentration to them. Our repeat bookings are The professionalism we have is the big reason we're such good communicators. For us communicating with people comes as easy as making succulent roast meals. For you that means that not only will you have a fabulous hog roast at your event that you'll enjoy greatly, you'll also be pleased with the service and communication we offer in the run-up to your event. From discussing menu options to making changes to the venue, we're always understanding and will offer an open ear whenever you feel like calling the Spitting Pig office to talk to us.