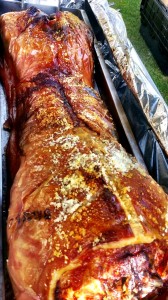 It's good news for you if you're on the hunt for an event caterer in Amesbury who can serve up a culinary spectacle like nothing else – Spitting Pig is that caterer and with an ever expanding team of top skilled staff we're always looking for new events and new clients to cater for. We get the best out of our skills and equipment by maintaining a fierce attitude, we're always on the ball and pushing ourselves, given 100% with every job because we're strong believers in all clients getting the same masterful service, regardless of how big or small your event. It's clichéd, but we really are a "brand you can trust" with the important task of event catering.
To understand why so many book us you need only inspect the hog roast Amesbury menu packages available. Our Spitting Pig chefs commit themselves to putting their own stamp on our hog roast catering, consistently bringing in new dishes they've made for us to try. The menus we have are made up of the very best of classic and contemporary dishes that our chefs have come up with over the years, even the classic foods have been made better with our own secret, special recipes.
The magnetism of hog roast Amesbury is in the service itself just as much as it is the luscious cooked meats we put on your plate afterwards. We've played our part in small events and some very challenging larger events with 5,000 + people, for all size and type of occasions we've brought to it a service with stunning visual elements and professional waiting that is the envy of catering in Amesbury.
It's sensational is our roasted pig, whether we roast it on a spit or in a tray in the oven. Speaking of sensational food, don't be fooled by our Spitting Pig name, pig is only the tip of the iceberg, we have every classic British meat you can think of on menus and can cook even more game meats and such if requested. They all cook well with our machines, with flexible attachment spits and heat settings we can give every whole meat or meat cut a thorough cooking while maintaining juicy succulence and mouth watering flavour. Whether you're planning the big day of your wedding or you're looking to out-do your friends barbecue by doing something different, you can always rely on us to make the utmost quality hog roasts and make them in such a way as to fit your unique occasion and goals.
Hog Roast Amesbury Leaders In Our Field
You can always hire your own machine instead of hog roasting. The different models we have each can cook for different numbers of people and in different styles. So if you want to spit roast a lamb for 100 people we have a machine that can do just that, if you want a machine which doubles with a grill we have the machine for you, if you just need a machine for tray roasting a small pig we also have a model. It's never a case of one size fits all, we've covered all basis by making different machine models of different strengths, for different hog roast hire Amesbury purposes.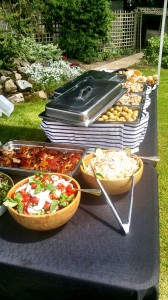 The periods of hire for this amazing hog roast hire Amesbury opportunity range from 1 day to 1 month, the middle ground being weekly hire. If you're hiring a machine for a one off event then it would be a real waste to hire for a month or a week, that's why we created the 1 event hog roast hire service. The monthly hire is really reserved for businesses that want to try before they buy, or don't have the money to buy outright straight away. The periods of hire you can choose, we even create an indefinite hire plan if you're in the culinary business and think you'd be interesting in hire for an extended amount of time.
But enough about the boring details, what about the foods you can cook with our machines. Pretty much anything, from spit roasted lamb to a number of tray roasted turkeys, you can get the delectable, nations finest roasts with Spitting Pig equipment. If you're set on roasting a pig with our machine we can even provide you with one from our own excellent stock for a little bit more cost. All our services are seriously stunning and if you have any doubts as to what we're about you're welcome to call and speak personally with one of our hog roast team, we'd love to give you more details about our services and even send you a few quotes.