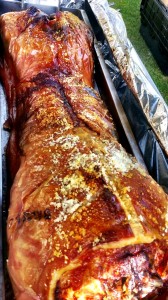 Hog Roast Aldershot is an extremely hard working, professional and dedicated catering company that specialises in excellently cooked hog roasts which serves Aldershot and the nearby area. If you decided to choose our catering team for your event you would receive a traditional feast of great mouth watering food to delight both the eyes and the taste buds of your guests.  Our unique blend of simplicity and flexibility in our services is gaining us plenty of attention in the catering world, and our customers routinely express their delight at our Spitting pig service.
To get a better idea of what this means, it's best to demonstrate to you just what the service that Hog Roast Aldershot consists of – from the view of the customer. We try to put as much control as possible in the hands of our customers, so that they can truly say they received the dining experience that they wanted. So, to begin with, we never limit the size of the events that we cater for, in either direction; big or small, we take on all sizes of parties unlike some hog roast catering companies that caterer for a maximum of 100 people we can cater realistically for a minimum of 25-30 people and with this we will supply a small suckling pig not a huge hog so you do not have to worry about huge portions of meat going to waste. Secondly, once we have gauged the size and nature of your event, we can offer you various options; sometimes, renting one of our spit-roast machines might be most ideal – but if it's not, then we have a large selection of menus that reflect the size and level of complexity you want in your event. Whether you just want a simple hog roast hire Aldershot for a small group of family and friends, or if you want an ornate three course meal classy, traditional yet tasty at the same time, we have every eventuality covered here at hog roast Aldershot we recognise that sometimes something specific is called for, or you might have a personal vision you want to realise. Having said that, some sort of spit-roast (we can provide a selection of other meats: spring lambs, whole chickens and fresh turkeys and sirloin of beef) is always at the centre of every menu; we have really perfected our method of cooking meat (we use machines we custom-designed), and we want to share with the public our mouth-wateringly good roasts, our machines produce the most spectacular results and will leave all your guests with something to talk about.
Hog Roast Aldershot Leaders In Our Field
We can also supply Salmon or Tuna steaks with potatoes done with vegetables such as broccoli. or vegetarian dishes such as stuffed peppers or roasted vegetable dependant on the numbers. With prices that will fit any pocket we build our reputation on listening to the customer's needs. We also do special deals with one of the pubs in the area if a customer books a hog roast through them the customer gets a discount. Yes sometimes we do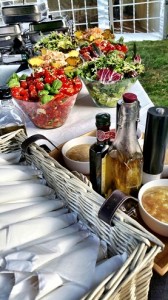 even have time to socialize and can be seen in one of the local numbers having a chat and a pint! Spitting pig Hampshire is such a universal catering company which we are very proud of, despite our speciality, and we have catered at a huge range of events in the past which has given us plenty of experience and wisdom to be able to give our customers  just what they are wanting. Of course, we cater at the usual sorts of events: private parties, weddings, corporate events… but, there's really no limit to our service – we've been used for charity fundraisers, at fun days and fairs, as well as festivals and market days many times over the years. We love seeing what new ideas people come up with for ways to employ our catering, and our committed staff always give 100% to every event.
If you are thinking of using our catering services at your own event and think you may like to employ hog roast hire Aldershot for an event happening locally any time in the future the best idea is to get in touch with us as soon as possible so we can work together to devise a menu and dining experience you are truly pleased with. And, of course, the sooner to the better is to avoid disappointment!