In this day and age, I feel it is impossible to be a modern caterer, like Hog Roast Blandford Forum, and not be in love with catering for weddings. Weddings are by far one of our most popular events and we never tire of working them!
This week's wedding was that of Ciara and Greg who were celebrating their day at a lovely manor house close to Blandford Forum and the church where the ceremony was taking place. Hog Roast Blandford Forum had been asked to provide the food for their reception which was set to be an evening of food, drink and lots of dancing!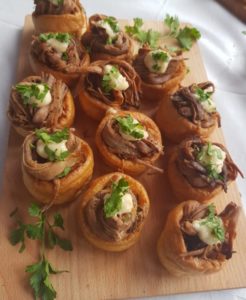 Upon the guest's arrival our Hog Roast Blandford Forum team greeted them with champagne flutes bubbling with fizz and a selection of our finest canapes to get their appetites going for what we had in store later. Hog Roast Blandford Forum have a wide range of wedding menu options and canapes to choose from but for their day Ciara and Greg had gone for our classic handmade gourmet sausage with wholegrain mustard dip and for the vegetarian options our Dim Sum and Wild Mushroom Bouchees which have a decadent garlic and thyme filling.
As the guests enjoyed our canapes and champagne, the happy couple took the opportunity to get some photographs to commemorate their day in the spectacular manor grounds. Despite the chilly winter air, they were kept warm by our hog slowly roasting away, which was almost ready to be served. For the main course we had two meat options, our traditional slow roasted hog or spit roasted chickens – both would be succulent meats served with a variety of roasted seasonal vegetables and our famous crispy roast potatoes. No hog is complete of course without some crispy crackling which our chef had prepared earlier in the day by carefully scoring the hog and applying salt to make sure we had the perfect crackling.
With the guests well fed and the couple happily enjoying their night, we discreetly packed away leaving everyone to enjoy some dancing…